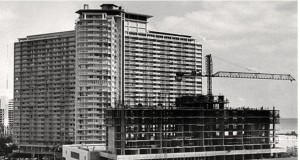 When the Ilikai opened in February 1964, it was the biggest condominium in the world. The Ilikai is a landmark building and people recognize it in the opening of Hawaii 5-0 from 1968-1980 and the current Hawaii-5-0.
Chin Ho, developer of the Ilikai , divided the 1,000 units into half condos and half hotel rooms.
Back in the day, the Pacific Ballroom was the place to be. The room would get jammed with over 500 people to see entertainers such as Jack Benny, Tom Jones, and Engelbert Humperdinck. The Top of the I, now Sarento's, has also had many iterations from nightclubs to restaurants.

Chinn Ho sold the Ilikai in 1974 to Marriott and has since changed ownership several times. The current owner, I-Star, has remodeled the top three floors and have put them on the market for sale.
It's been a great ride for 50 years and now the Ilikai has been reincarnated once again.